Being a huge horror fan and an even bigger 'mo I thought it's high time to celebrate the men of horror who are aesthetically pleasing.  Before scoffing and thinking of 10 different ways on how this post is wrong try to consider the following three points:
The horror genre is historic for perpetuating misogynistic ideologies with the obligatory shower seen, blonde-bitch character in tight-revealing clothes, and a random titties shot.  True one of the main demographics for horror films are young men, but lets take into consideration that some of those young men are gay, bisexual or trans.
There are countless blogs and websites devoted to hot women in horror. Why not try a reversal?
Because I want to
Considering some of these films are 30 years old, the actors are listed based on their hotness in the movie, not now (although some have grown better with age.) Without further ado I present the Hunks of Horror from 2 franchises, A Nightmare on Elm Street and Friday the 13th.
NIGHTMARE ON ELM STREET (1984)
Jsu Garcia (Yes, he was and is hotter than that Johnny Depp kid)

NIGHTMARE ON ELM STREET 2: FREDDY'S REVENGE (1985)
Mark Patton (Close call with his co-star Robert Rusler, but oh well)
NIGHTMARE ON ELM STREET 3: DREAM WARRIORS (1987)
 Laurence Fishburne (Because its Laurence Fishburne- better yet, it's 80's Larry Fishburne to be exact.)
 NIGHTMARE ON ELM STREET 4: THE DREAM MASTER (1988)

Danny Hassel (Quintessential 80's movie "hunk" -but he was good at it.)
NIGHTMARE ON ELM STREET 5: THE DREAM CHILD (1989)

Danny Hassel (see above)
FREDDY'S DEAD: THE FINAL NIGHTMARE (1991)

Breckin Meyer (Yes, he had the douchey early-90's ponytail and matching vest but whatever)
A NEW NIGHTMARE (1994)
David Newsom (But who was his competition?   (Wes Craven and Robert Englund? None of them are sexual beings to me)

A NIGHTMARE ON ELM STREET (2010)
Kellan Lutz (The casting of attractive guys was the only thing the remake got right.)

FRIDAY THE 13TH (1980)
Harry Crosby (Seemed unassuming and not as annoying as his other male costars)

 FRIDAY THE 13TH 2 (1981)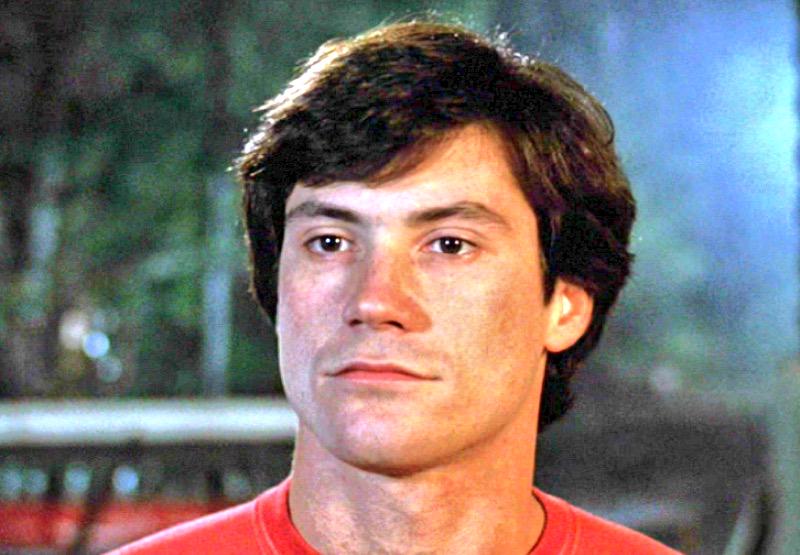 Todd McBride.  'Nuff said.
FRIDAY THE 13TH 3 (1982)
Jeffery Rogers (Between him and Shelly- jk)
FRIDAY THE 13TH: THE FINAL CHAPTER (1984)
Rob Dyer (Very blue-collar, everyday man good looks)
FRIDAY THE 13TH: A NEW BEGINNING (1985)
John Robert Dixon (Possibly the best looking man in ALL of the FRIDAY movies)
FRIDAY THE 13TH: JASON LIVES (1986)
Thom Matthews (Nobody can sport a jean jacket like Mr. Matthews)
FRIDAY THE 13TH: THE NEW BLOOD (1987)
Kevin Spirtas (He had to put up with a teen psychic)
FRIDAY THE 13TH: JASON TAKES MANHATTAN (1989)
Todd Caldecott (This entry is arguably the most "Late-80s" and Mr. Caldecott has the hair to support that argument)
JASON GOES TO HELL: THE FINAL FRIDAY (1993)
Michael B. Silver (Ironically he had early 80's good looks in the mid-90's but it still worked)


JASON X (2001)
Derwin Jordan (The only thing memorable from this flick- well aside from UberJason)
FRIDAY THE 13TH (2009)
Arlen Escarpeta (Like the NIGHTMARE remake, the only thing done right was the casting of the male characters.  Mr. Escarpeta is a nice vacation for the eyes during this dud.)
So there you have it.  My list of "hunky" horror icons from 2 of my favorite franchises.  Since this wasn't gay enough, I'm off to watch a Queer as Folk rerun.