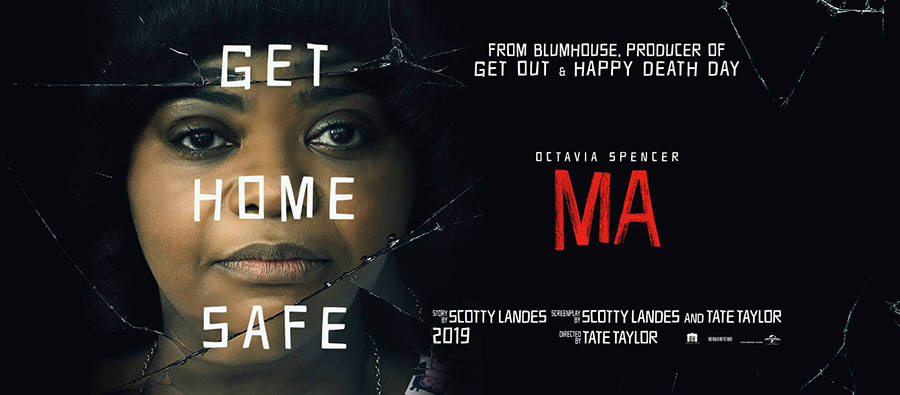 Who doesn't love Octavia Spenser?  Ever since her star-making turn in HALLOWEEN 2 THE HELP, for which she won an Oscar, her career has been on the rise.  Unfortunately, most of her roles didn't show her true range and had her playing as a mouth-piece to the main character (HIDDEN FIGURES notwithstanding.) Fortunately, that's about to change.  Spencer reteams with THE HELP director (and fellow gay) Tate Taylor for the upcoming movie, MA.  The film follows
Octavia Spencer stars as Sue Ann, a loner who keeps to herself in her quiet Ohio town. One day, she is asked by Maggie, a new teenager in town (Diana Silvers, Glass), to buy some booze for her and her friends, and Sue Ann sees the chance to make some unsuspecting if younger, friends of her own.

She offers the kids the chance to avoid drinking and driving by hanging out in the basement of her home. But there are some house rules: One of the kids has to stay sober. Don't curse. Never go upstairs. And call her "Ma."

But as Ma's hospitality starts to curdle into obsession, what began as a teenage dream turns into a terrorizing nightmare, and Ma's place goes from the best place in town to the worst place on earth.
MA looks fun and Octavia Spenser is always enjoyable to watch.  I'm excited to see her go against type and play creepy.  I would like more diversity with the teen characters as it seems…uncomfortable to watch a Black villain obsessed with mostly white teens, but hey- hopefully in a post-HORROR NOIRE world that'll soon change.
MA is ready to party on May 31st nationwide.