My entire life, growing up in Michigan, I always set my sites to move to California. I'd gladly trade in the harsh snow for the sunny beaches. Instead of drinking Faygo pop and eating Coney's everyday, I would drink protein smoothies and eat veggie burgers with avocado while waxing my surfboard. One of the few bright spots of the year that shall not be named was actually moving to Southern California, well the Inland Empire to be exact, but whatevs. Thanks to the Caronoa Man and the fact that I listen to scientists and not Kirk Cameron, I've stayed inside for the better part of the year. There have been occasional trips to the store or driving along the PCH but to be honest, I haven't been able to really enjoy an ounce of what California has to offer, except El Pollo Loco which needs to be nationwide ASAP. When I told family and friends that my partner and I were headed west everyone and their brother said, "You're gonna miss the snow." Instinctively, I usually laughed in their faces at this obnoxious statement. I'm leaving this part of the country because of the snow. Why would I miss it? Here we are many months later and I'm drinking my protein shake and eating a whole avocado while wearing shorts and standing over the grill in mid-January, dabbing sweat off my forehead, when a very depressing realization hits me: "Damn. I do miss the snow." I don't miss driving in it. I don't miss brushing my car off and scraping the ice. However there's something about a grey overcast, fresh snow covering your neighborhood and coming in from the cold weather that makes me miss the winters of Michigan. (Having said that I don't miss the Chicago winters. That shit was on another level.) Since I can't recreate my winter fantasy, I'm going to do my best this week. While wearing sweats, thick socks and turning on the central air I'm going to have a winter festival which will be celebrated with a movie marathon. The five films below are favorites of mine but, as a weird personal rule, I only watch during the winter season. Since winter is the backdrop (and in some cases a central character) these films are all on my winter, post-holiday, favorites list.
THE SHINING (1980)
Sorry Stephen King but I have to defer to Stanley Kubrick's take on your novel, THE SHINING, over the well-intentioned 90s remake. Set in the middle of winter, Jack Torrance is hired as the caretaker of the Overlook Hotel during the winter months when business is halted. Jack, his wife Wendy and young son Danny, move into this grand hotel and soon discover there's another energy present. Filmed with precise detail by the legendary Kubrick, THE SHINING, is what the trades now refer to as "elevated horror" or "prestige horror." I call it a scary-ass study of a multitude of topics including cabin fever, alcoholism, abuse, creative droughts, classism, racism, and the presence of evil. While Kubrick had disturbing practices for inciting performances from his cast (see his treatment of Shelly Duvall behind the scenes) it's the offensively diminished characterization of Wendy compared to the novel that's problematic. Still, THE SHINING is an effective horror film and a perfect movie to get you into the mood for Old Man Winter.
FROZEN (2010)
I've never been skiing and don't plan on it anytime soon. So I'm perfectly fine sitting on the couch and watch other people volunteer to hang out in the snow for hours. FROZEN follows 3 friends who find themselves trapped overnight on a ski lift. Which can happen I guess. I suppose. I guess. I'll allow it for a movie. That paper-thin plot detail aside, what follows is an enjoyable yet tense exercise in tension building that's pulled off confidently from writer-director Adam Green. While the HATCHET series is Green's most obvious contribution to modern horror, it's his follow-up, FROZEN, that established his status as a prominent new voice in horror. Frozen looks and feels cold. The characters not only have to contend with the harsh winter weather, but they're also in danger from a pack of wolves circling them from below. FROZEN is such an enjoyable winter-set movie that has enough soft touches of humor to avoid a potential dreaded tone which could've been the easier, if less satisfying route Green fortunately avoided.
THE LODGE (2019)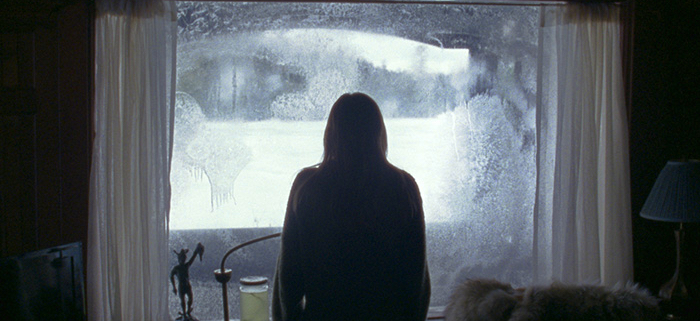 One of the most unsettling films I've seen in a long time, THE LODGE, is the perfect movie to watch while curled up in a warm blanket in front of the fireplace. The official plot follows Grace, a soon to be stepmom, who's snowbound in a remote cabin with her soon to be step children. As their relationship continues to unravel strange and unexplained events begin to happen. The movie walks the viewer down the twisted road of questioning whether if paranormal activity is at play or if Grace, a trauma survivor, is suffering from a psychological break. Perfectly cast and directed with such finesse by Veronika Franz and Severin Fiala, THE LODGE, is a clever anxiety-inducing, claustrophobic exercise in isolation horror. While demanding patience from the viewer, THE LODGE takes several twists and turns and leaves you with the cold feeling of dread and disorientation.
THE THING (1982)
I don't know what time of the year John Carpenter's THE THING takes place, but the snow-covered Antarctic setting lends this movie as a perfect winter-time watch. While most of the movies on this list deal with isolation horror to one extent or another, the horror with THE THING is the undeniable fact that the crew is not alone. The presence of an outsider with deadly motives on this small station is where the actual horror lies. Thanks to an unrelenting score from Ennio Morricone and still impressive practical special effects from Rob Bottin makes THE THING John Carpenter's grand opus. While HALLOWEEN gets all the well-deserved glory, THE THING is a brutal and unflinching exploration of paranoia, distrust and the fear of the unknown and stands as Carpenter's landmark horror film (don't @ me).
LET ME IN/LET THE RIGHT ONE IN (2010; 2008)
LET ME IN, and it's Swedish originator, LET THE RIGHT ONE IN, are both examples of a vampire story done right. Set in the dead of winter in LET ME IN follows the relationship between a young man and a young girl who appears to be around his age. Both are outcasts and both are struggling with surviving in their own unique worlds. LET ME IN is an atmospheric horror film that doesn't rely on cheap jump scares or an overabundance of bloodshed. This is the story of the loneliness of adolescence and the fear of power- whether it's your own or someone else's. Mostly set against the darkness and cold snow, LET ME IN, is a solid and clever take on the vampire genre. Lead by compelling Chloe Moretz-Grace, this is a winter-set story that's perfect for a winter night viewing.